Pedro Ferrer is one of the primary antagonists in Netflix's Colombian romance thriller series, Fake Profile, plotting and executing schemes from the shadows that affect his loved ones greatly.
Fake Profile is rife with characters who change goals and loyalties at the drop of the hat, and everyone seems to be out for each other in a lethal game of conspiracy, promiscuity, and murder.
Many of the central characters in the show are affected by the actions of the one standing at the sidelines of all conflicts, yet controlling and shaping each one of them — Pedro Ferrer, the father of Ángela and Adrían Ferrer, and grandfather to Lucas and Eva Estévez.
A tycoon
Pedro Ferrer owns the Ferrer Barragán Group, one of the biggest, if not the biggest name in the real estate world. In fact, at the celebration party, after the Nakamura deal goes through, Pedro calls the group the best real estate company in Latin America.
He claims that it's even more than that, and it does seem true too, as the deal with Nakamura involves billions. It's also evident in a couple of other things.
For example, the Riviera Esmeralda Residential Complex which is just one of the communities that they own, is a place replete with lavish homes and restaurants. Riviera Diamante is the newest project of the Ferrer Barragán Group, which would be, Pedro explains himself, the most luxurious community that Latin America has ever seen.
He is wealthy and isn't the least bit hesitant on pouring money on assistants, spies, and hitmen to carry out his nefarious plans while he has a whole company to look after.
Wrecker of families & relationships
Pedro Ferrer is actively working to destroy his own daughter Ángela's family and manages to successfully do so. It is his resources that help Lucas find out that his dad Miguel is cheating on Ángela with Camila.
Meanwhile, Lucas gets enlisted in his nefarious schemes by his grandfather, who continues to create a rift between not just Ángela and Miguel, but also between his son Adrían and his fiancé Cristóbal Balboa.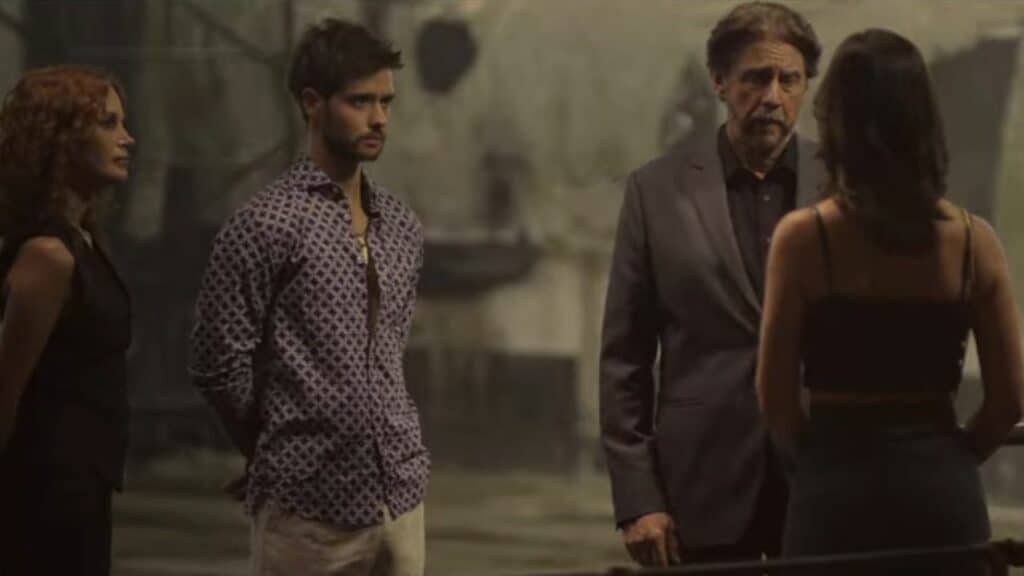 He enlists Inti, a sexual charmer who works his way to Adrían's heart by seducing him, thus creating discomfort between him and Cristóbal, who is already troubled because Adrían can't find time for them because of work and fears that Pedro would stop being so generous to them.
On the wealthy patriarch's payroll, Inti manages to separate Adrían and Cris by sowing seeds of distrust. Meanwhile, Miguel and Ángela's marriage is finished and their family dynamic is also fractured severely.
His reasons
Pedro simply hates Miguel. He hated how he was such a hustler and a grifter, with no spine and always after money. He hates that he is married to Ángela and remains close to his family.
It's because he's a serial cheater and has in the past, cheated on Ángela. However, Ángela chooses to remain with him, for the sake of the family mostly, while her father needs her to take over the company after he's gone.
Talking about gone, it's revealed later on in Fake Profile that Pedro has only three months before he dies of his brain tumor. To continue his legacy, he needs his son and daughter to get the idea and follow his footsteps, while staying as far from people like Miguel who he deems unworthy of the legacy and the name.
Meanwhile, his reason for getting rid of Cris remains a mystery for most of the season until Miguel and Camila find out why he's so insistent on weeding him out of the picture. It's because Cristóbal is the son of the man his late wife had a relationship with for a brief period when she and Pedro were not on good terms.
---
Also Read: Fake Profile summary and ending explained