Lee Ro-Woon is one of the supporting characters in King the Land, and also Pyeong-Hwa's main love interest.
The protagonist of King the Land, Cheon Sa-Rang, staggers through life with competence and determination. In her personal life, she has few people she can lean on during the lows, and though they may be low in numbers, in providing a strong company they are most magnanimous.
Apart from her grandmother, and now a charming and powerful love interest in Gu-Won, Sa-Rang is supported by two best friends, fellow King Group employees Gang Da-Eul, and Oh Pyeong-Hwa.
These two besties themselves struggle to find more people with whom they can confide their secrets and struggles, as well as lean on when they suffer rough patches professionally or personally. Thankfully for Pyeong-Hwa, she has also found a new support system in a potential love interest, fellow flight attendant, Lee Ro-Woon.
A gentleman
Lee Ro-Woon is a fellow flight attendant to Oh Pyeong-Hwa and among many of his defining traits is the one regarding his chivalrous attitude.
He's quite the gentleman and by far the most prolific when it comes to chivalrous acts. From the standard gestures to the more-than-basic displays of care and concern, he's been making his way through Pyeong-Hwa's heart for a while.
Rescue angel
There have been several times when Pyeong-Hwa has found herself in trouble, most of these being in a professional setting. Whenever these moments arrive, so does Lee Ro-Woon, lending a hand to Pyeong-Hwa one way or another.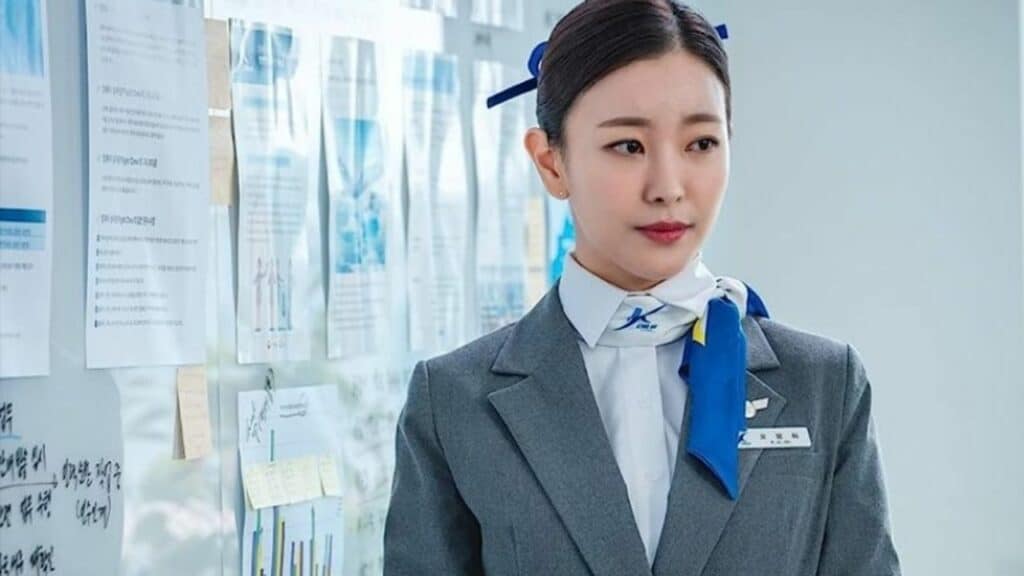 She has been harassed by the pilot Shim Jae-Wan, who seems to share some not-yet-revealed controversial past with her, but Lee Ro-Woon has managed to arrive at the right time and prevent the tense and uncomfortable confrontations from devolving further.
He has also helped Pyeong-Hwa multiple times when she has found herself in a pickle on the job. When she gets deprived of another chance at a promotion, Ro-Woon lifts her spirits by reminding her how great she is at her job and that he aspires to be as good as her.
Daring romantic
While Pyeong-Hwa finds herself attracted to the charming man who hits all the right targets for an ideal partner, and then some, she remains somewhat reserved when it comes to a reciprocal display of affection or love thus far.
Lee Ro-Woon, on the other hand, has been a bold and confident romantic all along. He never shies away from making moves and even if a confession is still far away, he hasn't missed opportunities to make it known that he's very much interested in Pyeong-Hwa and genuinely cares for her.
He's considerate enough to see when she feels dull and acts accordingly, he takes her on an unofficial date, and on walks to cheer her up too. He also ends up crashing her luxurious getaway in Thailand with her friends, thanks to Gu Won.
After spending some quality time with others and Pyeong-Hwa, Ro-Woon departs early for his shift the next day, and finds a thank-you note from her on the dinner table, signifying that the romantic flame is very much mutual.
---