In Sky Rojo season 3, Wendy finds love again after meeting Greta, who not only stays with her during the good times but also stays with her through the worst.
After relocating to a house on the coast of Almeria, right beside the Civil Guard, Coral, Wendy, and Gina restart their lives. They open up a bakery and launder the money they stole from Romeo.
The girls get familiar with the area they are living in and meet new people who become part of their lives. Watching Gina fall for Toni, their diving instructor, encouraged Wendy to take a leap of faith too.
Wendy meets Greta
Wendy decided to make a move on the girl she met at the gas station, Greta. She begins to go there more frequently just to see her.
Wendy's obsession with Greta comes to a point where Wendy takes her bike all over town just so that she can run out of fuel and visit the gas station. If that's not enough, she even opts to empty her fuel tank through her mouth.
Eventually, the day comes when she asks Greta out. Unfortunately, Greta claims that she is in a relationship with someone by showing off her tattoo that has her lover's name written on it.
Wendy then gives her a glimpse of her cassette tattoo and tells her how she had thought that cassettes would stay forever.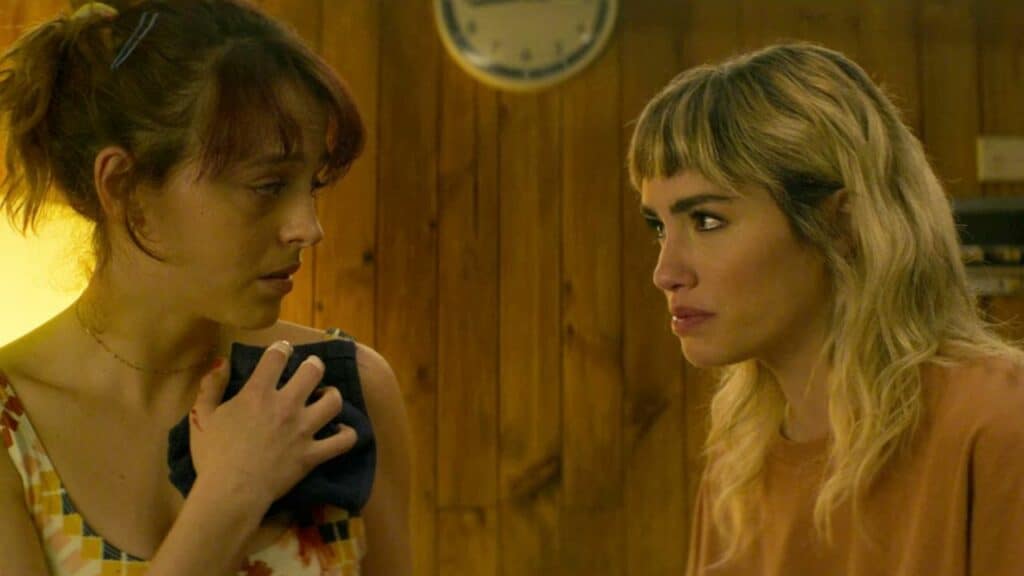 Greta gets what Wendy is trying to suggest and agrees to go on a date. They spend an evening together getting to know each other as friends.
The next day, Greta shows up at Wendy, Coral, and Gina's house just to confess her love for Wendy. She dumped her girlfriend because she kept thinking about Wendy. Therefore, she followed her heart.
From that point on, Greta became part of Wendy, Coral, and Gina's lives. She joined them on their daily hangouts. Wendy tells Greta everything she needs to know about her, except for her dark past.
Greta joins Wendy to take Romeo down
Romeo waits for the girls to come out of the house together. The time comes when the girls hop on Toni's boat for a sailing adventure, along with Greta and Toni's friend, Pau.
Romeo and his gang attacked them in the middle of the ocean. The battle ends with Wendy and Coral losing Gina, Toni, and Pau. Greta survives the attack. She is horrified to see what she just walked into.
Initially, Greta complains to Wendy and resents her for lying to her. Greta blames Wendy for ruining her life and for luring her into her fake life.
Wendy doesn't try to defend herself because she knows she made a mistake by keeping her past a secret from Greta, but she does assure Greta that her love wasn't fake.
Wendy also tells her how terrible life has been for her. While bidding Greta goodbye, Wendy offers her antibiotics and some money.
Greta boards the taxi but gives her decision to part ways with Wendy a second thought. She comes back and confesses that she is wrong. Wendy and Coral got exploited their whole lives, and her leaving as if they ruined her life doesn't sound right to her.
She offers to stay and help them get revenge on Romeo. She claims that they certainly do need someone to feed Gina's baby while they fight the assassins. Wendy kisses Greta, and the couple reunites.
Greta stays by Wendy and Coral's side throughout this adventure. Towards the end, they burn down Romeo along with his brothel. Wendy, Greta, Coral, and Gina's baby then look forward to a happy future where no one is trying to murder them.
---
Also Read: Sky Rojo season 3 review: Retains the aspects of the previous seasons