Nazan Abbasi is an FBI agent who has a lot of demons to face and who makes it her life's mission to track down Leo Pap and the stolen bonds. The character is played by Niousha Noor.
Nazan is a dedicated agent who is also going through recovery for her addiction issues. She is initially on the case of Leo's escape from prison and when Ava Mercer's name pops up in relation to the diamond way heist, she becomes obsessed with what Ava must be involved with.
An officer with a grudge
Nazan Abbasi is part of the investigation into Leo's escape and while she's at his doctor's house for questioning, she notices one of his prescription pads and swipes it.
Later on, when she and her colleague are questioning Ava Mercer if she met Leo recently, there is much hostility and Ava suggests that Nazan is under the influence which is why she's not acting professionally.
7 years later, Nazan is back on the job and going to recovery meetings to improve her chances of getting shared custody of her son. When Ava's fingerprint is found on one of the bullets in the diamond way heist, she insists on being involved but the agent-in-charge is apprehensive.
She admits that Ava filed a formal complaint all those years ago and that in part led to her suspension and losing custody of her son. She investigates Ava off the books and falls into another trap set by her target.
As she's chasing Ava through a party, someone plants a bag of drugs on her and she's arrested. Even though she isn't charged, her history leads to her losing any chance of getting shared custody of her son again.
She decides to fight fire with fire and has Ava's nanny picked up by ICE and negotiates her release in exchange for Ava becoming her mole within the crew.
Taken for a ride
Ava continues to feed information to Nazan but on the day of the heist, it is revealed that Leo knew about it and that they were selectively giving her what she needs.
While they're robbing the vault in the basement, Nazan is sent to the 59th floor which was set up by the crew as a base of sorts. While the space doesn't look important at first, Nazan discovers a false wall and a horde of surveillance equipment behind it.
She derails the crew's plans by disconnecting all the equipment and when they head back to the elevator, she finds Roger Salas's business card with a suggestion that she look into him.
She and her partner Samuel try to investigate the vault on the day of the robbery but they're sent back by Roger and Hannah. They return sometime later with a warrant and when they inspect Roger's personal vault, they find the Rappachini's Orchid which was planted there by Leo.
That along with all the other information that Nazan and Samuel dug up is enough to send Roger to prison for a long time.
Digging far too deep
6 months after the heist, Nazan has made substantial inroads into the case and she also includes the Triplets in the investigation. She and Samuel go to South Carolina after Stan tries to pawn one of the items stolen during the diamond way heist and is flagged.
When Bob tells Leo to set up a meeting with Stan and Judy, he pretends to call them and gives them a time and place but he actually calls Nazan.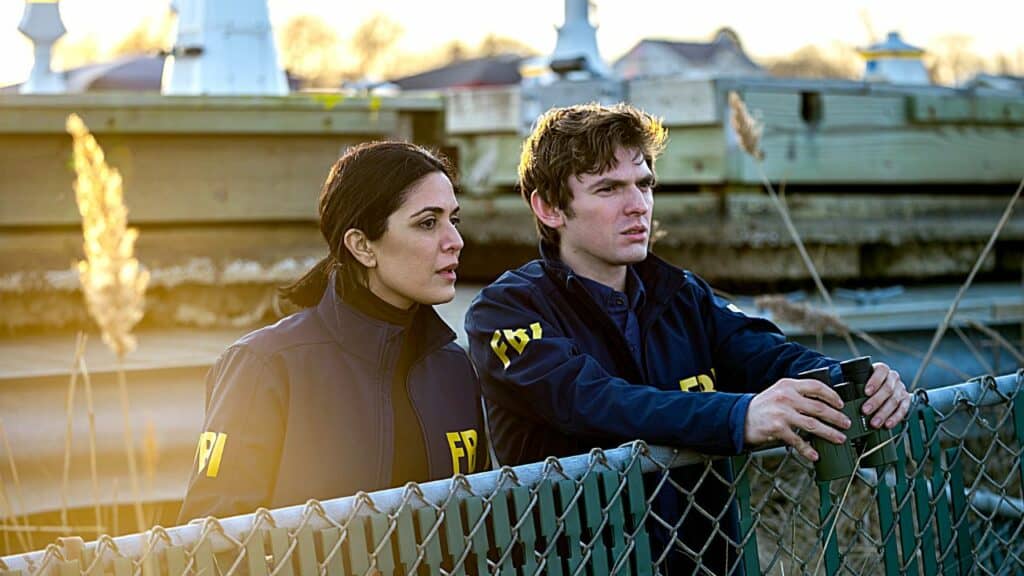 When Bob gets to the meeting point, Nazan and a team of other agents are waiting there for him and he goes out in a hail of gunfire. With his and Ava's death, there is some closure and the bureau considers the case more or less closed but Nazan isn't satisfied.
With the bonds still missing she's insistent that there's still a piece of the puzzle left and she continues trying to get in touch with the Triplets.
As she's walking down the street one day, an old man asks her for directions and when she gives them to him, he shakes her hand and thanks her. She crosses the road immediately after and collapses to the ground before she can get to the other side.
It is implied that she died of natural causes as Samuel looks over her work and her boss consoles him and says that sometimes the job just takes over the person.
With the threat of the Triplets constantly referred to and their preference that the bonds not be investigated since they have successfully laundered it, it could be presumed that the innocuous interaction with the old man was a fatal one.
---
Also Read: Kaleidoscope (2022) ending explained: All episodes