In Fanfic, Tosia falls in love with Leon, who is the first person to accept her when she comes out as a boy. Jan Cieciara plays Leon.
Leon comes from a very small town. He transferred to Tosia's school after receiving a scholarship. On his very first day, he dreamed of ways to leave an impression during the inauguration of the new high-school year.
Unfortunately, all he could do was dream, as he failed to muster up the courage to do so. It seems like Leon also faces something similar to what Tosia is facing. She first sees him puking in the washroom, just like her.
Later on, Leon also takes note of Tosia. He feels drawn toward her and finds ways to start a conversation with her. As usual, Tosia pushes him away, as she does with other boys who try to hit on her.
With Leon, she felt something different, as he instantly became a character in her fanfics, where her main character gets attracted to his character as well. After thinking about him for a while, she finally makes a move on him at his party, only to learn that he is not into her.
Leon and Tosia's relationship
At Leon's party, Tosia also learns that she is more comfortable in Leon's clothes than her own. She eventually comes to realize that she wants to be a boy. Tosia goes through a makeover and starts calling herself Tosiek.
When Tosiek's father doesn't accept his son right away, Tosiek goes running to Leon, who welcomes him with open hands. He helps him cut his hair and takes him to Konrad's sister's party.
Tosiek and Leon enjoy time together. Tosiek soon asks Leon if he is gay and whether he is after Tosia or Tosiek. Leon says yes to the first question and counters the second by asking Tosiek what he thinks.
The two end the night kissing. The next day, their videos from the party go viral. The videos abuse Tosiek for his gender choice.
Something changes in Leon from that point on. He starts maintaining distance from Tosiek and focuses on his relationship with Konrad, which bothers Tosiek.
Konrad and Leon's relationship
Konrad was already getting close to Leon before Tosiek inserted himself into the picture. Konrad knows Leon inside out. He says that Leon has had a hard time, and therefore, he didn't want someone like Tosiek, who, according to him, is an attention-seeking individual, close to him.
Konrad confronted Tosiek with this claim during a party. This made Tosiek wonder if Konrad had something to do with the leaked videos. He ended up finding one on Konrad's phone.
A fight broke out, but Konrad got a chance to clarify later. He was shooting his sister that day, and Tosiek and Leon just ended up in the background of that video.
A scared Leon attempts to clear things up. Amidst all of this, he realizes that he likes Tosiek more. Leon visits Tosiek and confesses that he used him for cover, but now he is sure that he definitely likes him. He also lets him know that he is not into Konrad.
Leon's past
Leon and Tosiek hit it off together at the latter's father's workplace. The arrival of a group of men interrupts their good time. This group of men makes fun of Tosiek. Leon, instead of standing up for Tosiek, runs away and leaves Tosiek all alone.
From that day on, Tosiek cuts Leon off from his life, though he comes to apologize for walking out. Tosiek then becomes a hero at school for standing up against an insensitive teacher.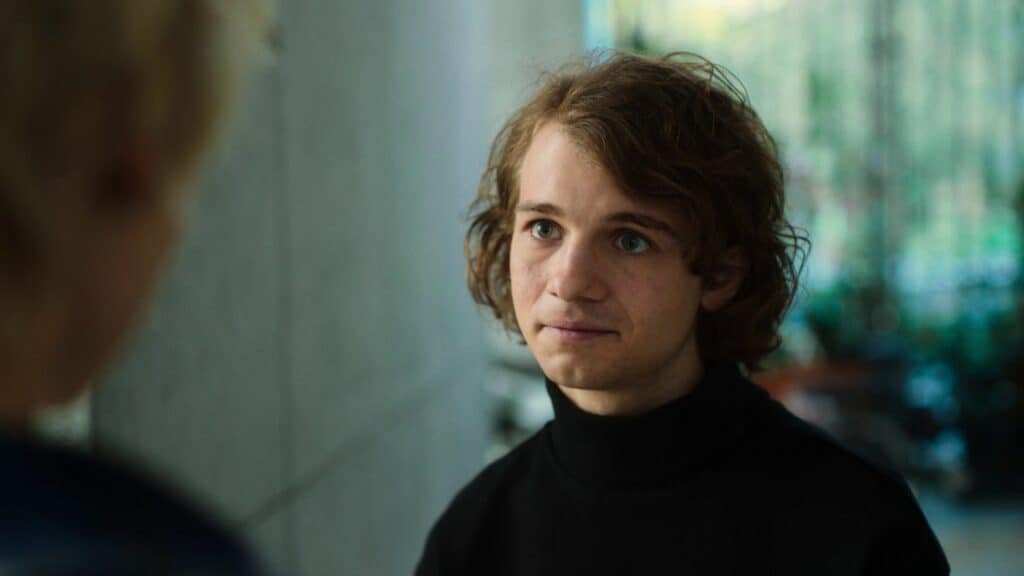 Roksana isn't able to digest the fact that someone like Tosiek, who is selfish, is being celebrated. She lets him know that she spread hate against him and also that Tosiek doesn't really care about his friends.
Without knowing what Leon had been through, Tosiek abandoned him. Roksana reveals that Leon's parents cut ties with him because he is gay. On top of that, last year, Leon spent three months in the hospital because someone beat him up for dancing with a guy.
What happens to Leon?
After hearing Leon's story, Tosiek starts to understand why Leon has been so nice to him and so accepting. Somewhere, even Leon faced everything that he did. Watching Tosiek suffer from the abuse and facing men who are not accepting triggered the trauma Leon has been through.
After taking his father's advice, who has now accepted him, Tosiek starts looking for Leon. By then, Leon had given up his scholarship and gone back to his parents.
With the help of his friends, Tosiek tracks Leon down. Tosiek's father drives him to Leon's house. Though Tosiek doesn't find him home, luckily, he sees him walking his dog on their way back.
Tosiek and Leon lock a kiss. Tosiek says none of them are failures or mistakes. They are both afraid, and it is fine.
---
Also Read: Fanfic review: A light-hearted and insightful watch