Yoon Ji-Hu is one of the supporting characters in Netflix's rom-com Kdrama, King the Land.
Gu Hwa-Ran is the firstborn of the King Group owner, Gu Il-Hoon, and the elder half-sister of Gu Won. Her defining trait for the majority of the show is to defeat her brother and take the presidency of the hotel for herself.
In her quest to take the throne and prove herself, she has put her personal life and relationships on the back burner, due to which she suffered a life full of loneliness. Amid all failing relationships, her son, Yoon Ji-Hu, remains one of the very few who can melt her heart of stone.
Yoon Ji-Hu's make-pretend maturity
Yoon Ji-Hu is just a spright little boy and yet his mannerisms reflect that of a person much more mature than his age.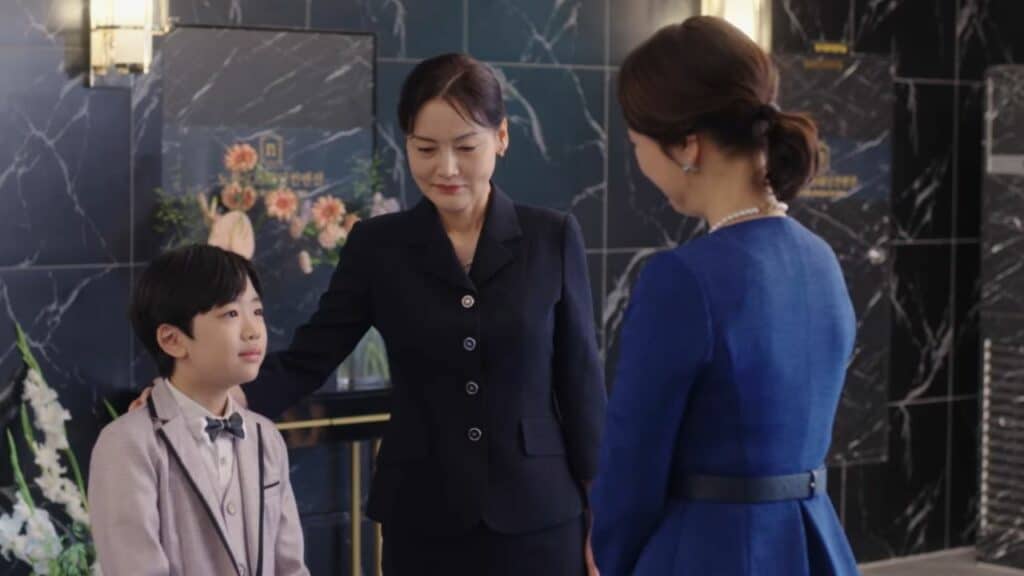 He talks in a most polite manner to his grandfather but Il-Hoon, although impressed and amused, thinks he acts so much like an adult and that he should act more like a kid.
It's not just his poise and flair, but also the maturity with which he interacts and answers. Il-Hoon is shown to be really proud and jolly whenever he sees his grandson act like that.
Childish & compassionate
However, it's a sign of uptight and strict parenting that has led to Yoon Ji-Hu keeping those appearances up and interacting with body language so incongruent with his age.
When he's not in the company of people with whom he must act in a regal manner, he's a kid through and through. In fact, he's shown to be quite a mischievous little spirit with all the sensibilities of a child.
He's a bit spoilt as well and upholds some of the classist values that he's been taught by his distant mother. When he interacts with Sa-Rang, he becomes free to act like a child and enjoys his freedom with an elder sibling-like person.
He also gels really well with Won and thinks he's the coolest person. Won, on the other hand, imparts some crucial lessons to him, teaching him the importance of expressing himself if he wants to.
Ji-Hu does just that with his mother while she goes through her lowest. He consoles her, hugs her, and even decides to go back to America for her mother.
However, Hwa-Ran finally sees what she must do and embraces her kid, stopping him from boarding the flight and taking him home with her.
---