The end of episode 5 sees Billy Butcher and Hughie walk off with Soldier Boy as Starlight watches on with an unconscious M.M.
The Boys head out to Russia to find the weapon that killed Soldier Boy so that they can use it against Homelander. What they uncover is that Soldier Boy is alive and well, and has a brand new explosive superpower.
After Soldier Boy arrives in New York and immediately blows a hole through the side of a building, Butcher and Hughie decide to track him down with the help of M.M. They meet The Legend (Paul Reiser) who tells them that Soldier Boy is looking for the Crimson Countess.
Laying the trap
After getting Crimson Countess' address from The Legend, they head out there and subdue her first. They tell her that she's just the bait for Soldier Boy.
Butcher and Hughie have both taken Temp V but M.M. refuses to cross that line. He lets Starlight know of their plan and she shows up at Crimson Countess' place.
She and Hughie walk away to discuss why Hughie didn't tell her himself and after they're gone, M.M. begins to lose consciousness. Butcher had drugged a bottle of water and given it to him to knock him out because he knew that M.M. would never agree to the plan he has in mind.
While Starlight and Hughie are away disagreeing over his use of Temp V, Soldier Boy arrives and Butcher tells him that he's restrained Crimson Countess as a favour to Soldier Boy so that he can earn a favour in return.
Hughie and Starlight come back after Soldier Boy obliterates Crimson Countess with his power but before Starlight can attack the supe, Hughie stands in her way. He tells her that Soldier Boy is their weapon against Homelander and that he has to go along with Butcher on this.
In the comics
Billy Butcher has the exact opposite relationship with Soldier Boy in the comics. When Payback attacks the Boys at the hospital where the Female is recovering, Butcher ends up biting Soldier Boy's nose off.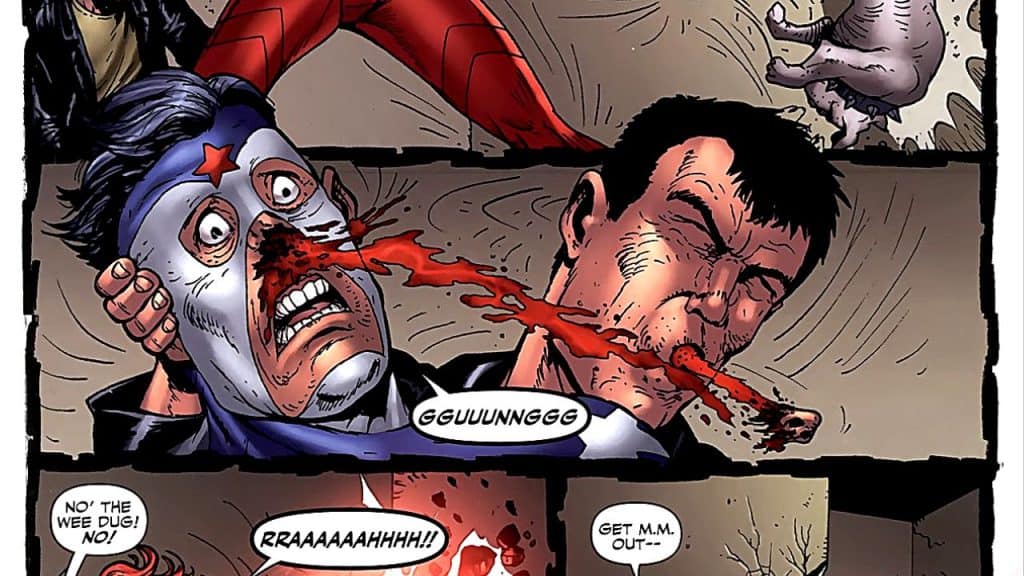 Later on, when Soldier Boy is captured by the Boys, Butcher interrogates him for days to get information on Homelander. He even mocks the simple-minded supe for claiming to be the same Soldier Boy that fought in WWII, when the reality is that he was just forced to assume the identity by Vought.
In the "What I Know" arc, Butcher is revealed to have killed Soldier Boy, with a public funeral being held for him, and members of the Seven (including the Homelander) serving as his pallbearers.
---
Also Read: How did Kimiko lose her powers in The Boys season 3?