Kristin Marie is one of the key new additions to the cast of the hilarious sitcom Abbott Elementary, in a recurring role as Melissa's estranged sister.
Abbott Elementary is rife with eccentric characters that all feel all too familiar and relatable. Season 2 of the successful sitcom has recently been released to a wide audience and during great acclaim for the show.
With its sophomore instalment out, the sitcom has already started having new fun characters enter the cast, in various capacities and sharing some interesting dynamics with already existing characters.
One such character is Kristin Marie, the estranged sister of Melissa.
Abbott faculty's first encounter
The first time the show introduces Kristin Marie is early on in episode 2 'Wrong Delivery' when Janine and the gang visit Addington Elementary and take a tour of the charter school.
Along with the various better facilities they find in the charter school, they also stumble upon a teacher who looks stunningly similar to Melissa. Her looks, style, and micro-expressions all suspiciously match those of Melissa's.
To add to everyone's suspicions, Melissa won't talk or mention anything about the woman they just passed by. Later on, she would again encounter this woman who seems like her doppelganger and exchange ferocious stares.
Estranged over a dish
It's the fourth episode when Melissa and Kristin Marie share more prominent screen time together, even if it's rife with anger and searing gazes.
In Abbott Elementary season 2 episode 4, the two estranged sisters are finally brought together in hopes of reconciling and patching things up. And this great plan is hatched by none other than Janine.
This episode is also where the show reveals the reason behind the two sisters' strained relationship. It comes out as a petty one at first. However, Melissa later reveals that the reason is far deeper than what it seems.
It's at Melissa's home when the two sisters come face-to-face again. Janine had sent Kristin Marie a container full of a dish she made, along with a note that read "For my sister".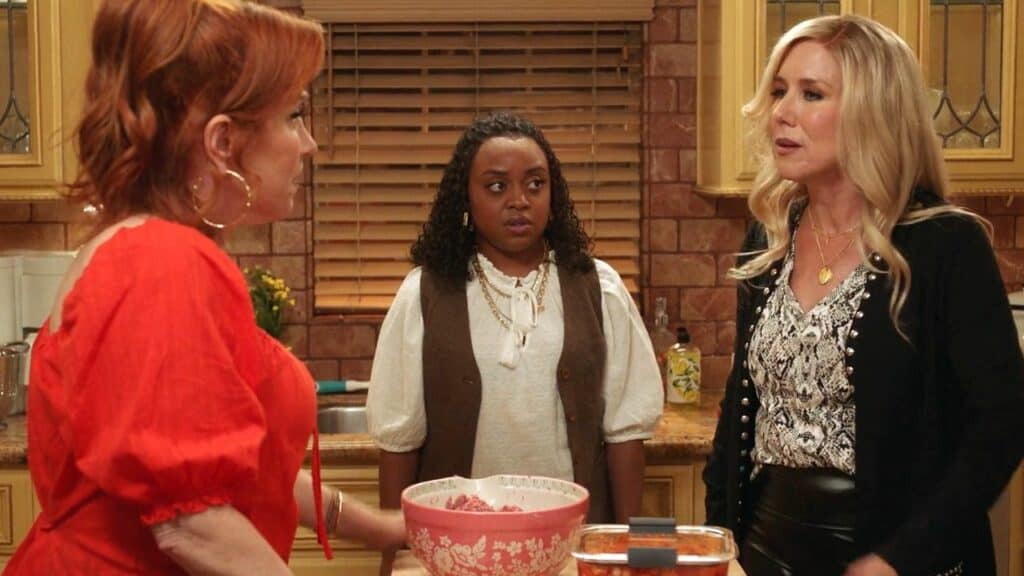 Needless to say, the dish was bad, and so was this idea to reunite the two sisters, as Marie is fuming at the fact that her sister tried to send her this bad a dish.
Before this debacle, Melissa had taught Janine the importance of sticking to the correct ingredients while making a dish.
If you don't, Melissa says to Janine, you could end up breaking families, as her sister had once made a really bad dish during their grandma's funeral.
The real reason for the rift
Later on, when Janine expresses her disbelief that their relationship can be this strained over a bad dish, Melissa reveals that the actual reason was more than that.
She tells her that Kristin Marie had left her family high and dry during a difficult time when their grandma was sick as well.
Melissa was left to care for her grandmother alone, with Marie going away saying she can't bear looking at her grandma in such a state.
This created a rift between them but then Marie turned up at Grandma's funeral with a really badly made Gnocchi. Melissa says this was the final nail in the coffin for her, drifting her from her sister further apart.
The love lingers still
Despite their outward hotheadedness and walled-up personas, there's a clear sisterly bond that remains between the two.
Even when they're loudly arguing with each other, the two Philly girls are professing their love languages for each other.
At the end of 'The Principal's Office', Melissa drunkenly shows the camera crew all the photographs of her and her sister, fawning over and adoring her sibling dearly.
So it's pretty evident that the love between the two sisters is very much alive (although the show is yet to reveal a similar side to Kristin Marie). It's also imminent that the two sisters will be reconciling their differences, possibly by the end of this season.
---
Also Read: Commander Putnam's death in The Handmaid's Tale explained