Theo suffers a hilarious and quite excruciating injury in Firefly Lane season 2 that serves as a major turning point for Kate and Johnny's relationship in the 80's.
Kate and Johnny have been through the ups and downs in their relationship several times. While the present day brings them a host of challenges both truly grim and truly dire, their struggles in past could've just as well ended their relationship before it could have flourished into anything meaningful.
There's a lot of hurt and pain on both sides; Kate hurts from the feelings that remain for Johnny that she can't let go of; Johnny hurts from seeing the love of his life plan her marriage with another guy. However, Theo emerges as the character who hurts the most, with his reasons being both physical and emotional, with a lot of hilarity to boot.
The dominoes till the fall
Theo and Kate's relationship is a happy-go-lucky ride that sails smoothly except for the fact that Kate suffers from the love she has for Johnny. She admits to herself and others how Theo is the perfect man and a great husband material, and he proves all of it true as well, on more than one occasions.
However, a lover like Johnny is terribly difficult to just get over like that.
Johnny, meanwhile, hurts even more and as a result of his unrequited love arc that's both incredibly soppy and a kind of funny, he's become a total mess and incapable of moving on. When he loses a gift that Kate had given to him, he breaks out in tears, and it's Kate herself who consoles him.
This consolation turns into a kiss that surprises Johnny who's grateful to have this bit of intimacy he's been dying for. Kate brands this as just a sort of "goodbye kiss". However, when Johnny arrives at her doorstep, upsetting her by saying he still loves her, she lashes out but the frustrations and tensions between the two instantaneously turn sexual.
The incident
With just a little time left until Kate and Theo's wedding, Johnny arrives and makes Kate commit what she thinks is adultery. Johnny reminds her that it's not since she's not married yet. However, that doesn't make it any better and Kate is crushed by the guilt immediately after having sex.
She expresses her disappointment and goes outside for a bit as Johnny hops into shower. With just the right bad timing, Theo arrives and hears the shower sounds, which turn him on and he strips to get inside as well, thinking it's Kate who's in there.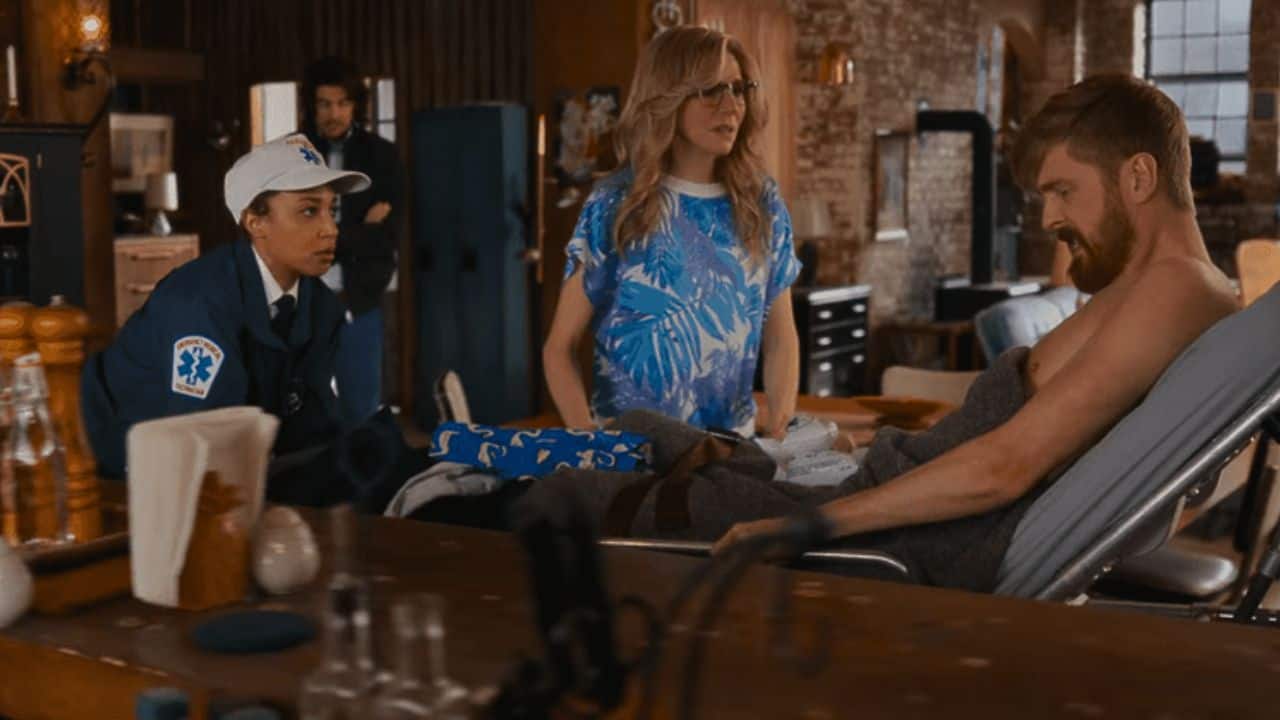 Inside, his excited state is met by a Johnny-sized shocker, which makes him trip and fall, in a manner that hurts him in one of the more fragile parts of the body. He gets wheeled away by the paramedics, as Kate stands petrified and Johnny with the biggest "oops" face.
As Theo's wheeled away, the medical opinion is that he'd have to lose one of his balls as a result of the injury.
He remembers
Theo and Kate cross paths again. A significant time has passed since he broke things off with Kate after the injury and cheating. Kate is out on the sidewalk, struggling to pick up a thing she dropped since Marah is strapped to her chest.
The gentleman Theo swoops in and helps the lady out, but his expressions turn sour the instant he gets a better look at her. Kate awkwardly tries to catch up with him, even asking him how his testicle is, with an unprompted explanation/consolation about one testicle being enough following shortly.
She tries to cease the awkwardness by loudly taking a sigh of relief herself about the fact that Theo would not still be stuck in the past since it's been so long since the incident. However, Theo makes it known that it hasn't been that long, as he tells her that he still remembers, and earlier in the conversation confirms that he's still single.
---
Also Read: Exclusive interview with costume designer Allisa Swanson on Firefly Lane