In the finale of Manifest season 4 part 2, the 828ers face judgment. Some manage to survive the event, while others pay for their sins.
Once Cal sacrifices himself to combine his sapphire with the one on Noah's ark, a blue light emerges out of the fissure at the base of Storm King Mountain. That light attracts the rest of the 828ers to the place.
Montego Air Flight 828 comes out of the fissure. Ben and Michaela assume that the plane is their version of scales. It is time for their judgment.
The 828ers board the plane, and moments after it takes off, some of them start feeling uneasy. They feel their heart accelerate, sense disorientation, and struggle to catch their breath. Outside, the apocalypse begins.
The deaths explained
Paul is the first person to face judgment. Fiery cracks appear on Paul's body before he bursts, and only his ashes remain. Following Paul, Randall dies the same way. They died the way they were supposed to on Flight 828.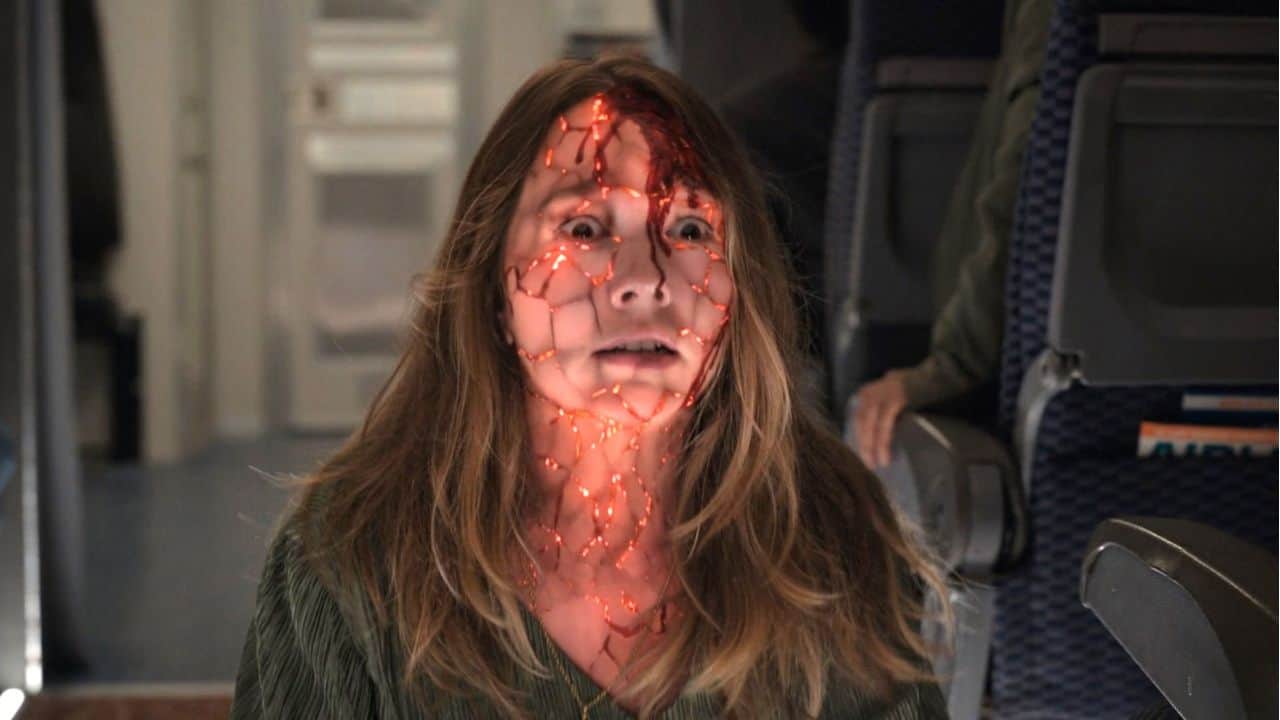 Only those who deserve to die are dying. The likes of Autumn and Angelina also face the same fate. Paul has a history of abusing his wife, and he was selfish throughout the fourth season, while Randall never put effort into helping while the 828ers were facing life-and-death situations at the detention center.
Similarly, Angelina faced the wrath of judgment for causing havoc everywhere she went. She misguided many, including Autumn, who did Angelina's bidding and tried to poison Astrid for leaving them. In total, eleven people face the wrath of judgment.
Why are others spared?
Ben is the first one to be spared. According to a clue cracked by Olive, Ben is supposed to forgive Angelina, as mentioned in the picture inside Al-Zura's journal, if he wants to survive the Death Date. Ben does forgive her for everything she did and lets her board the flight.
Among the sinners are also Adrian and Saanvi. Eagan sees Adrian as a good man, and he pleads with the divine consciousness to let Adrian go. He offers himself instead, as he has been selfish all the time.
Adrian reminds Eagan that sacrificing himself for someone else is the opposite of selfishness. Eagan's selfless move sees the divine consciousness forgiving him.
Saanvi is punished for killing Major, but when Ben reminds her that she still saved his son and many other people, divine consciousness forgives her too.
The ashes of the dead people who faced judgment combine and appear as a grim reaper in front of the passengers. The 828ers confront the grim reaper. Ben and Michaela recount the good the 828ers have done despite being put through hell.
By doing so, they defeat the Death Date. Moments later, their flight lands in 2013 at the destination where it was supposed to in the first place. The 828ers are taken back in time and given a second chance to live their lives.
---
Also Read: Manifest season 4 part 2 review: Mediocre mystery drama delivers an epic finale