In Divorce Attorney Shin, when Sung-han's nephew, Gi-yeong, seeks his help, Sung-han decides to fight the powerful people who wronged his sister for the sake of Gi-yeong's health and happiness.
After Ju-hwa's death, Sung-han was allowed to meet her son, Gi-yeong, once a month. Since Gi-yeong seemed happy whenever Sung-han saw him, he assumed that Gi-yeong was living a good life.
However, when a helpless and distressed Gi-yeong visits him all on his own, he realizes that Gi-yeong has been suffering all this while. He is anything but happy.
Gi-yeong approaches Sung-han not as his nephew but as his client. He wants Sung-han to defend him, and Sung-han promises to help him and take care of everything for him.
Why does Gi-yeong need help?
Gi-yeong's mother died in an accident when he was very young. Yeong-ju, Gi-yeong's stepmother, is raising him with his father, Jeong-guk, but she controls all of Gi-yeong's actions and has never taken him to visit his mother's grave.
Gi-yeong's living condition gets worse when Yeong-ju puts an end to his and Sung-han's monthly visits and even fires Gi-yeong's driver, Mr. Jung, who spends more time with him than his own father and overlooks a lot of things that Gi-yeong is not supposed to do.
Gi-yeong never felt comfortable at home. He used to be the most comfortable in the car with Mr. Jung when he was away from home, but now that he is leaving, Gi-yeong does not have anyone by his side. Yeong-ju is also changing all his classes.
Gi-yeong wants to move to Germany with Sung-han, who promises him that he will find a place and people who will make Gi-yeong feel comfortable so that he does not have to seek comfort in the car or traffic.
When Sung-han talks to Yeong-ju, who was cruel to Ju-hwa right before she died, and Ms. Ma, who is trying to protect Gi-yeong, he decides to take Gi-yeong's case and save him before it is too late, something he could not do for Ju-hwa.
Sung-han's arguments
Sung-han decides to file a lawsuit for the termination of Jeong-guk's parental rights over Gi-yeong and to get himself appointed as his guardian, as he wants to raise Gi-yeong and give him a better life.
Before fighting the case in court, Sung-han informs Gi-yeong that if he chooses to live with him, he will not be as rich as he will be with his parents, and Gi-yeong still chooses Sung-han.
In court, Sung-han argues that at the young age of three, Gi-yeong not only lost his mother but also had to deal with the sudden presence of his stepmother in his life. He was then prohibited from meeting his uncle, and he became helpless.
Gi-yeong has been depressed for a while, and Mr. Jung informed Yeong-ju about it, but instead of taking him to a doctor, she fired Mr. Jung. As both his parents failed to get him treated in time, he is now suffering from severe child depression.
Sung-han presents Gi-yeong's psychiatric reports and Mr. Jung's testimony to prove his point, but Jeong-guk's lawyer questions the reliability of Mr. Jung's testimony, as he was recently fired.
Jeong-guk's lawyer gets Gi-yeong's new driver to bear witness. The driver tells the court that Sung-han's friend, Jeong-sik, was caught following her and Gi-yeong.
She has been bribed by Yeong-ju to lie in court. To prove that Gi-yeong is allowed to meet his uncle, she claims that Gi-yeong did not run away to meet Sung-han; he informed her before going.
Sung-han plays the CCTV footage from Gi-yeong's class, and Gi-yeong is clearly seen running away. His driver is also seen frantically looking for him, which proves that Gi-yeong did indeed run away.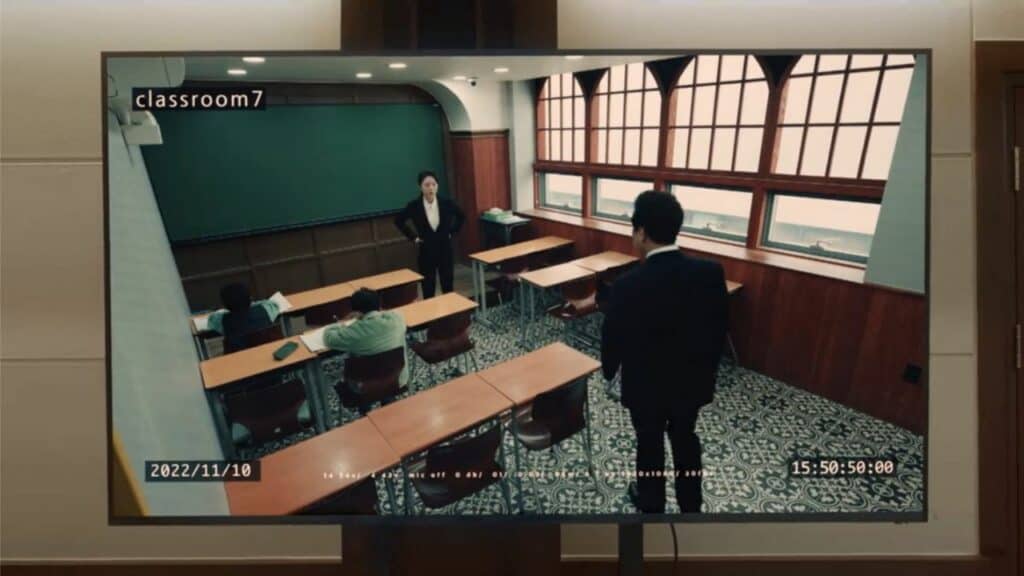 Jeong-guk's lawyer also gets their cook to take the stand to discredit Sung-han's claim that Gi-yeong has been binge eating because he is depressed, but that does not help much when Sung-han presents a video of Gi-yeong stress eating and getting sick in a convenience store.
Yu-seok's testimony and Jeong-sik's plea
Sung-han wishes to prove that Yu-seok was bribed by Yeong-ju and Jeong-guk when he was representing Ju-hwa and that he deliberately lost her case. Yu-seok is called to testify in court, and Jeong-sik pleads with him to tell the truth, as it is his last chance to live a decent life.
Sung-han questions Yu-seok whether he knew about Ju-hwa's psychiatric records from the US when he was fighting her case; even her family did not know about these records. Years ago, Ju-hwa lost Gi-yeong's custody because of these records.
Sung-han points out that when Ju-hwa was preparing for her custody suit, Yu-seok was suspiciously made a partner at the Keumhwa Law Firm, which was one of the top law firms in the country and was representing Jeong-guk.
Furthermore, he recently resigned and received a branch of a cafe franchise as his severance pay. This costs way more than Keumhwa's average severance pay, and Yu-seok cannot even be called a competent lawyer by any means.
Yu-seok lies and says that he was not aware of these records, and Sung-han fails to prove that Ju-hwa lost Gi-yeong's custody because her lawyer was bribed and that he committed a crime by betraying her.
Jeong-guk's lawyers then question Sung-han's ability to take better care of Gi-yeong than his father. The court decides to send a custody investigator to Gi-yeong's house and interview him before the next trial.
Seeing Sung-han stressed because of the difficult case, Jeong-sik decides to sell his car to pay Yu-seok to tell the truth in court. The money would cover the fees that Yu-seok would have to pay for breaking the law.
Since Yu-seok has anyway resigned, getting suspended from practicing law would not affect him. Jeong-sik wants to correct his past mistakes, but Yu-seok has no such desire or regrets and refuses to do the right thing.
Why does Jeong-guk testify?
Jeong-guk meets Sung-han and asks him why is he trying to take things so far. Sung-han wants to protect Gi-yeong, something that Jeong-guk should be doing as his father but has failed to do.
Sung-han tells Jeong-guk that even if he loses this case, he will keep filing the same lawsuit over and over again to let Gi-yeong know that he has someone on his side. In their argument, he also tells him that Yeong-ju's phone call was so cruel that it led to Ju-hwa's death.
Jeong-guk then asks his mother, who had heard the phone call, about what Yeong-ju said to Ju-hwa. Ms. Ma never told him or Sung-han about it because she thought it was for the best, but she finally decides to tell him everything.
During the next trial, Sung-han highlights that Jeong-guk has been fulfilling Gi-yeong's material needs, but he has failed to provide him with the love and support that are essential for a child. He implores the court and Jeong-guk to take Gi-yeong's feelings into consideration.
This leaves an impact on Jeong-guk. He had earlier refused to answer Sung-han's questions in court, but he decides to be his witness now, knowing that anything he says can be used against him, much to his lawyer and Yeong-ju's disappointment.
Does Sung-han win the case?
Sung-han questions Jeong-guk about getting Ju-hwa's psychiatric records, and he truthfully replies that he was the one who got them from the US without Ju-hwa's knowledge.
He also admits that Yu-seok, Ju-hwa's lawyer, told him about the records, proving that he was indeed bribed by Jeong-guk and Yeong-ju.
This makes Sung-han ask him what would happen to Gi-yeong if he finds out that his father did something like this to take this custody from his mother and if Jeong-guk's family is a suitable environment for Gi-yeong. Jeong-guk has no reply to that.
Sung-han wins the case. The court decides that Jeong-guk's parental rights over Gi-yeong would be limited, and Sung-han will be his guardian. Sung-han will have the right to protect, educate, designate residence, and discipline Gi-yeong, along with other rights regarding his custody.
Sung-han will have to submit a guardian's report at the end of every year, and Jeong-guk will have the right to meet Gi-yeong. Sung-han gets to bring Gi-yeong home with him, and Gi-yeong seems happier.
It is later revealed that Jeong-guk asked for his parental rights to be limited and not entirely terminated because he did not want Gi-yeong to lose his share in the company. Gi-yeong will get to live happily with his uncle and will also get his inheritance.
---
Also Read: Divorce Attorney Shin season 1 finale recap, review & ending explained